How to Avoid Work From Home Scams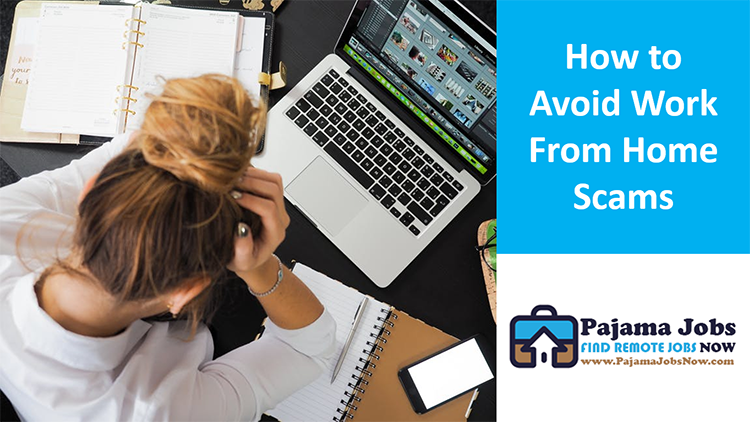 When searching for a remote job, it's important to know how to avoid work from home scams. It's imperative to protect yourself and know if a job is legitimate or not.
Unfortunately,  "work at home" or "work from home" jobs are often times associated with scammers.  Scams may exist, but there are many more legitimate remote jobs than work from home scams. You just need to know how to spot the difference.
Here are 10 warning signs to help you detect work from home scams:
Pay does not match job requirements

This is one of the fastest ways to spot a scam. If you are being offered an abnormally high salary for "no experience required" or 60k annually for a job that typically pays 30k, it's a scam.

You are asked to pay money

This is another big one. You should never have to pay to get a traditional job; however, some business opportunities, like Avon and Mary Kay do require some sort of investment to get started. If it's a traditional job and you are asked to pay for information about the job, then it's a scam. You should also never need to pay for a company computer, software, credit checks, or resume improvements to get the job. Another red flag is being asked to send money by Western Union. Anytime a company mentions Western Union, run. It's a scam.

The job offer came from out of nowhere

If you are offered a job for a position that you didn't even apply for, then it's not a real job offer and it's a scam. You are not going to be offered a job that you didn't apply or interview for.

There's not enough information about the job

If you are told that a job is so simple that anyone can do it, and it has very vague and non-specific job requirements, be careful. It could be a scam.

Grammar mistakes

If a job advertisement or messages from the "company" are unprofessional and contain several grammar, and punctuation errors, then it's probably a scam.

Interviews via Messenger

Most legitimate job opportunities will want to conduct a phone or video conference interview. They're typically not going to interview you through chat alone.

They're using a free email address

Most legitimate businesses will use a company email address and not a free service like Gmail or Yahoo.

Fake email addresses

If you're receiving messages from emails that do not exits, it's a scam. Always double check that the email address you are getting messages from is an actual legitimate email address.

You are unable to locate information about the business

If you can not find information about the business by doing a simple Google search, then more than likely it's not a real business and it's a scam.

You are asked for information that's not needed

Be careful about the information that you give out. Under no circumstance does an employer need information such as your online banking username, password, or pin.
We hope you found our how to avoid work from home scams list beneficial in your work from home job search!
Good luck and happy non-commuting!
To find a work from home job, view our Remote Jobs page. To be the first to hear about great work at home opportunities, like our Facebook page.
PLEASE SHARE this post! Be a pal. Help your friends that may be looking for remote jobs too.
---
Start Your Work From Home Job Search
---
Best Working From Home Jobs, Job Seeker Tips, Working From Home Tips