What to Expect When Searching For Remote Jobs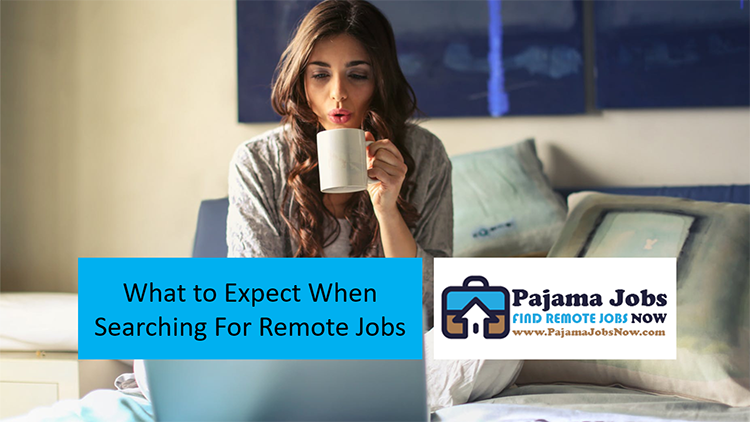 When you first begin searching for remote jobs, it can be a little intimidating. Luckily, more and more companies are hiring remote employees. With the number of remote positions on the rise, finding a remote job is easier than you might think. Even though it is a little different, searching for remote jobs is really no more difficult than searching for a traditional onsite job.
Follow our 5 tips below to know what to expect when searching for remote jobs:
Be Prepared to Find Some Low Paying Jobs

Some companies and individuals will offer very low pay for work at home jobs. It's important to understand that just because you want to work from home, it does not mean that you have to settle for low wages. Always remember to only apply to jobs that are paying a fair salary. Never sell yourself short. Know your worth. There are many remote jobs available. You will find something that is paying a fair market wage for your skill set.

Expect to See a Few Scams

When searching for remote jobs, it is inevitable that you will run across work from home scams. It's important that you know how to tell if a job is legitimate or not. Scams are out there, but legitimate job opportunities definitely out number them. You just need to know how to tell the difference.

Read our "How to Avoid Work From Home Scams" article for detailed ways on how to spot a scam.

Before Applying For a Job, Be Prepared

Before applying for any type of job, it's important to take a minute and carefully prepare. Preparing will greatly improve your chances of getting noticed by employers and getting a job offer.

Review our "Before Applying For a Job Follow These 5 Steps For Success" article for proven ways to improve your job application strategy.

Take Your Job Applications Seriously

Don't take shortcuts when applying for a job. Be sure to always send a resume, and cover letter tailored to the job you are applying for. Take each and every application seriously.

Read our "How to Write a Work From Home Resume" article for in depth work from home resume writing tips.

You Will Need to Interview

After you send in your cover letter and resume, if the employer is interested in moving forward, you'll need to interview. Most of the time this will be done remotely by phone or video chat. The interview process will help you and the employer determine if the position is the right fit for you.

Read our "Remote Interview Mistakes To Avoid" article for tips on what not to do during a remote interview.
We hope you found our What to Expect When Searching For Remote Jobs article beneficial to your work at home job search!
Good luck and happy non-commuting!
To start your work from home job search, view our Remote Jobs page. To be the first to hear about great work at home opportunities, like our Facebook page.
PLEASE SHARE this post! Be a pal. Help your friends that may be looking for remote jobs too.
---
Start Your Work From Home Job Search
---